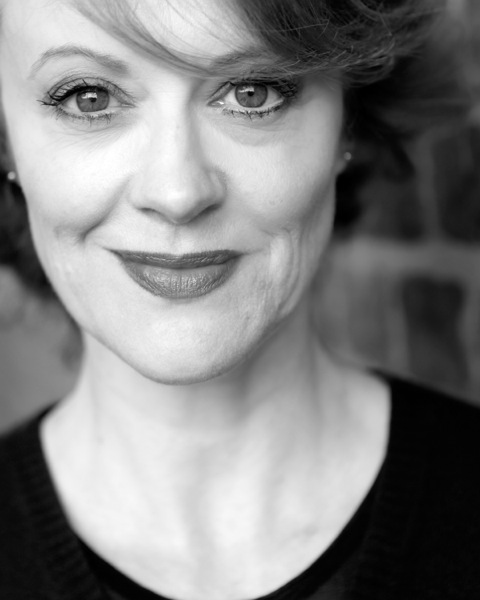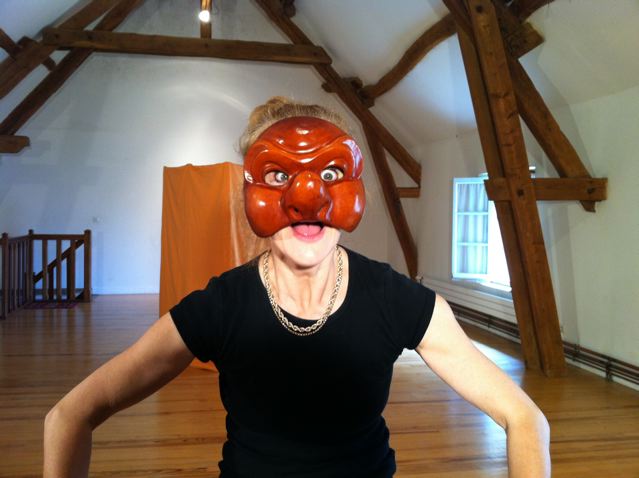 Photograph of Lowri-Ann Richards from a Commedia Actor Training workshop.
In 2012, I gained an M.A. in 'Actor Training & Coaching' from The Royal Central School of Speech & Drama,(University of London).

My dissertation was entitled 'The History of Commedia dell'Arte and application in Contemporary Actor Training particularly exploring how such Training of the Half Mask is useful in Screen Acting.'

Actor training and coaching is dependent on the needs and wants of each group or individual. I work through the mind and body to find a personalized pedagogical approach that will suit each respective client or clients. This can include working on audition technique, voice and breath support, text and character analysis etc as well as, if needed,consultancy and advice on appropriate avenues into the profession. Having worked extensively in television and live theatre for over 30 years, my knowledge and experience of the working mechanics of this occupation, as well as the 'casting' system for drama schools, commercials, musical theatre, soap-opera, theatre, cabaret etc places me in an excellent, almost unparalleled position to advise all clients on an approach into their particular field of acting.

This approach is tailored to suit all personal objectives.

This first hand experience of the business, together with an in depth analysis and understanding of how to unlock the 'acting process', can help to give my clients an above average platform from which to work towards their goal, help create an inner belief in their ability and a focused external confidence.

Positions as lecturer in actor training includes: ( Screen) at Arts Ed London W4, ( Mask) at the International School of Screen Acting London E15, (Actor Training/ Show director) at Bodywork Cambridge CB1. I have sat on auditions panel for the BTEC Diploma in Performing Arts at Bodywork Cambridge and on the M.A. Acting at The Royal Central School of Speech and Drama, London NW3

In 2018 I co-ran a Welsh Arts Council Lead Creative School drama project at Ysgol Glan Clwyd, St Asaph. 

I currently run a private one to one ‌actor / drama, voice and public speaking coaching practice in Gwynedd, N. Wales. LL52

To book a session, make enquiries or to have an informal chat - please contact me via email on: lowri.ann@btinternet.com


Courses

None at present.


Past Courses

CLOWN LAB & WHATEVER HAPPENED TO LALA SHOCKETTE?
present
THE PERFORMER'S PLAYGROUND
a 6 day (7 night) Fully Residential Theatre & Performing Workshop
by the sea in Criccieth, North Wales.
27th June- July 3rd 2015

In Brief...
The Performers playground is a 6 day all inclusive course on playful approaches to theatre - Expect Clown, le jeu, movement, game and a hell of a good time. Taught by the Gaulier trained Clown lab team - working regularly with west end performers, theatre makers, and students at RADA, E15, Colchester Uni amongst others.
It gets better, the location of the course is Criccieth (north wales) a beautiful coastal town and the house you stay in is next door to the amazing memorial hall where the course takes place. (meals provided)
It's the perfect setting for an immersive experience with pubs and beaches 3 min walk away, all in the shadow of Criccieth Castle.
All this for a mere £400 early bird (until April 30th)
£430 after.
Max 15 participants
For more detailed course information email: therednoseacademy@gmail.com
For booking details email: lowri.ann@btinternet.com

Expanded details...
Clown Lab and Whatever Happened to LaLa Shockette?
Present…
The Performers Playground 27th June - 3rd July 2015
A 6 day residential workshop in clown and play

The Performers Playground is an intensive workshop aimed at professional and semi-professional performers to help you develop a more playful approach to your craft.

The workshop takes place in the beautiful seaside town of Criccieth known locally as the pearl of Wales on the shores of Snowdonia .
Classes will take place in the beautiful Criccieth Memorial Hall, an early 20th Century music hall in the centre of the village.
By day you will play, laugh and learn with one another in Criccieth''s historic memorial hall. By night you are free to take in the spectacular scenery, explore Criccieth's pubs & nightlife, take a walk along the sea-front & perhaps have a quick dip in the sea – which unbelievably is just a mere 3 minute walk from the substantial victorian residence, where you will be staying.

The Course
"The Performers playground offers a training that is physical, ground breaking and back to the core . Their hands on approach to acting and their way of helping each actor in finding their own unique pleasure and beauty on stage - I dare say is quite astounding."

Lisa Henni: Easy Money, Crimes of Passion

This 6 day residential is aimed at professional and semi-professional actors, performers, directors and theatre makers wishing to develop their craft in a creative, challenging, fun and physically demanding environment.

The Performers Playground will help you to become a more sensitive, playful and impulsive performer. The playfulness of the clown and their direct relationship with the audience are the roots of this workshop.

We approach theatre training through game, rhythm, impulse, and the pleasure to play for an audience as opposed to psychology or suffering that some others traditions utilise. Through a range of games, exercises and provocation you will start to understand yourself and your limits; and perhaps most importantly you will learn to follow your fun. We will help you to relish taking centre stage where you will play with your audience in the most direct way possible. We also understand how useful and invaluable these tools can often be when applied within the drama audition process, cabaret performance, stand- up, circus and burlesque.

The Performers Playground is designed to nurture and refresh your approach to performance and theatre. In short, the performers playground is designed to nurture and refresh your approach to all aspects of performance and theatre.

Our work will stretch you physically, creatively and you will be encouraged and pushed into new areas outside your comfort zone. Together we will go in search of fun, lightness and complicity and over the 6 days you will play, laugh , learn and grow.

The Team

"Our job is to help each student begin to discover their own unique pleasure on stage, the same pleasure with which they played as children."

Mark Winstanley and Alice Robinson have over 15 years teaching experience between them. In that time they have taught at drama schools, universities, colleges, and theatre festivals across the U.K.including; RADA, East15, Central school of speech and drama, Royal welsh College, GSA, ALRA North, University of Salford, Swansea Met, Colchester Institute, The Actors Centre, 24/7 Theatre festival, Physical fest and many more.

In 2009 they set up Clown Lab to teach clown and playful theatre to professional and semi-professional performers. They have since taught "The Performers Playground" to film, Tv and theatre professionals in the Uk and europe.

Mark and Alice trained with some of the worlds best teachers in clown and play including Philippe Gaulier, John Wright, Mick Barnfather, Eric de Bont and others. In addition to numerous intensive workshops Mark studied the year A and B programmes at Ecole Philippe Gaulier and Alice studied an MA in Movement studies at Central.
As practitioners they create and direct original work with students and theatre companies across the country.

Mark is a core member of A Ship of Fools Theatre Company and Alice is currently working on a new mask show.

Accommodation

Accommodation will be in dorm rooms in Greystoke, a beautiful 3 storey Victorian house that overlooks Criccieth with views of Criccieth Castle and Tremadog Bay The Memorial Hall is literally next door to Greystoke. You will enjoy 3 healthy vegetarian meals per day and in the evenings you have free time to explore Criccieth village, walk along the beach, drink in one of the local pubs or relax at home. Participants will also have access to a private beach and 60 acres of land (both a 3 mile short drive away)

Access

Mainline rail services- Virgin - Bangor Railway station- 30 miles. Coastal rail service- Arriva- Criccieth Railway station- 5 minute walk property. National Express coaches run a service through Criccieth also.

Price

The price is inclusive of all tuition, accommodation and food. £400 Early bird (before April 30th) or £430

Booking info

To book on the course or for more information contact Lowri – Ann on:
lowri.ann@btinternet.com or 07889 130615


"Just the kind of refreshing experience an experienced actor needs when he feels like he's been in the game too long … Great fun, great folks and great teachers."

Nabil Stuart: Blackwatch, National theatre of Scotland